|
COURSE LECTURE NOTES:
| SCIENCE | MATTER | SOLAR SYSTEM | PLANETS | ATMOSPHERE | WIND and TEMPERATURE | HUMIDITY | WEATHERING | SOIL | SEASONS | MASS WASTING | SEASONS and CLIMATE | WIND WORK | STREAMS | LAND FORMS | GROUND WATER | CAVES/KARST | THE OCEAN | TIDES & ESTUARIES | WAVES | GLACIERS | GLACIAL LANDFORMS | VOLCANOES | VOLCANOES | CHON | PLATE TECHTONICS | EARTHQUAKES | ROCKS | CLIMATE CHANGE |
Land Forms created by stream action
1. Erosional


a. V - shaped valley - a valley cut by a stream. It begins as a narrow cut and then is widened out by erosion/mass wasting as the stream cuts deeper


b. water Fall - result of stream flowing through a hard layer of rock deposited over a softer layer. Erosin occurs in the plunge pool, face of fall is under cut and falls off. The falls migrate up stream. Some communities, such as Niagra, have attempted to halt this migration by using concrete.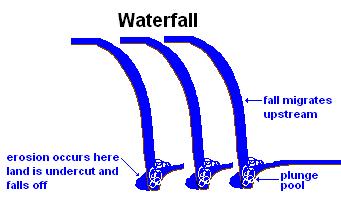 2. Depositional


a. delta - deposition of soil as a stream encounters the edge of a lake or ocean and slows.

b. alluvial fan - the soil/debris washed down from a mountain by a stream, Forms a V - shaped fan.
b.(1)bajada - a series of connected alluvial fans, such as those north of Chaffey.


c. playa - dry lake bed



3. Both Erosional and Depositional


a. meander - bend in a stream. It sometumes widens and becomes an oxbow lake.

Home
Page Visits