|
COURSE LECTURE NOTES:
| SCIENCE | MATTER | SOLAR SYSTEM | PLANETS | ATMOSPHERE | WIND and TEMPERATURE | HUMIDITY | WEATHERING | SOIL | SEASONS | MASS WASTING | SEASONS and CLIMATE | WIND WORK | STREAMS | LAND FORMS | GROUND WATER | CAVES/KARST | THE OCEAN | TIDES & ESTUARIES | WAVES | GLACIERS | GLACIAL LANDFORMS | VOLCANOES | VOLCANOES | CHON | PLATE TECHTONICS | EARTHQUAKES | ROCKS | CLIMATE CHANGE |
The OCEAN and its movements
Ocean - large body of salty water that occupies the low areas of the Earth. The ocean goes by several names; Pacific, Atlantic, Arctic, Indian, Southern, because early man could not see the entire thing, but they are all connected and form one body of water. It is salty from weathering on the land and minerals washed into the sea. A balance of saltiness is maintained mainly by removal of salt by living organisms.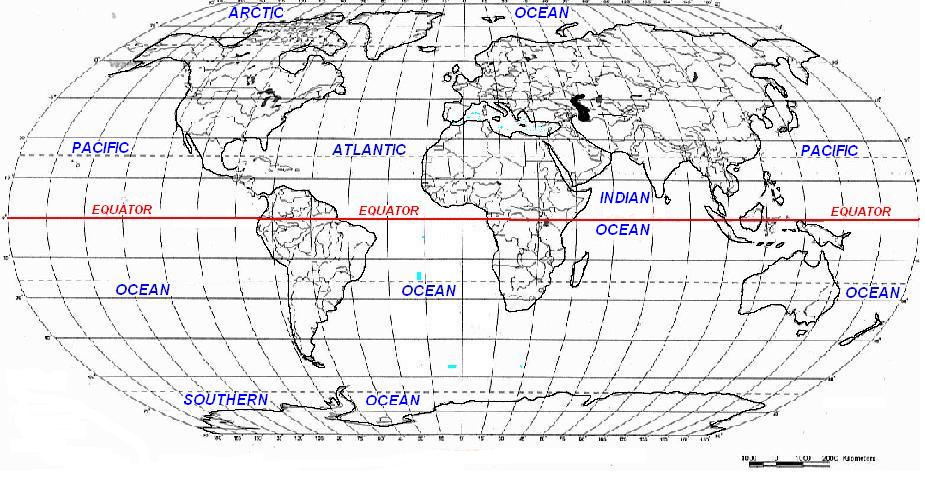 Ocean movements - There are two types of ocean movement.
1. surface currents/layers - caused by wind and modified by the coriolis effect and placement of the continents. These are huge circular movements of surface water known as gryes. Again, parts of these gryes have different names such as "the Gulf Stream" due to early inability to observe their entirety. The water in the middle of these gyres is slightly higher and is relatively quieter.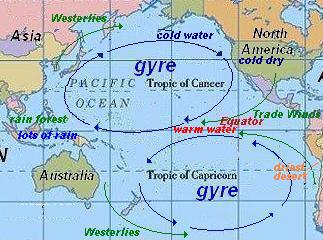 2. density/deep currents/layers - colder water is heavier and sinks, especially where ice has formed which eliminates 99% of the salts making the remaining cold water saltier and even heavier. Cold salty water sinks at the antarctic and flows toward the equator slightly less cold water at the arctic sinks and moves south till it meets the Antartic deep current. The Mediterranean current is caused by evaporation. The saltier water is heavier and sinks/

Ekman Sprial - As the wind blows across the ocean surface it pushs against the water, which moves at about 2% of the winds speed, veers 45o to the right. The progressivly deep water layers continue to move to the right and decrease in in speed, until the deepest layer runs opposite to the surface flow and 225o to the direction of the wind>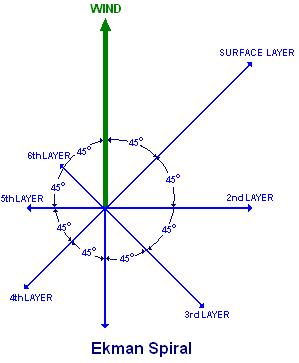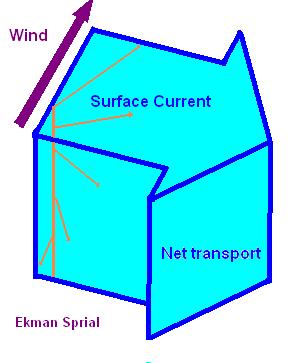 Page Visits