|
COURSE LECTURE NOTES:
| SCIENCE | MATTER | SOLAR SYSTEM | PLANETS | ATMOSPHERE | WIND and TEMPERATURE | HUMIDITY | WEATHERING | SOIL | SEASONS | MASS WASTING | SEASONS and CLIMATE | WIND WORK | STREAMS | LAND FORMS | GROUND WATER | CAVES/KARST | THE OCEAN | TIDES & ESTUARIES | WAVES | GLACIERS | GLACIAL LANDFORMS | VOLCANOES | VOLCANOES | CHON | PLATE TECHTONICS | EARTHQUAKES | ROCKS | CLIMATE CHANGE |
WAVES and WAVE WORK
Wave - the ocean in motion
Types of waves
1. Deep water


a. water must be deeper than 1/2 wave length
b. water moves up and down in a circular motion as the wave form for passes, no lateral movement.
c. created by wind action on water surface
d. size depends on:

1) wind speed - faster - stronger
2) duration of wind - longer - bigger
3) fetch (area covered by wind) -wider - bigger

e. no work done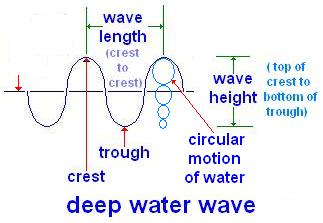 2. Shallow water


a. wave work begins
b. water depth becomes less than 1/2 wave length
c. wave form touches bottom
d. toe/trough begins to drag and slow
e. top/crest speeds up and wave becomes taller and thiner
f. wave spills over - creats surf


e. classes of shallow water waves


1) spilling
2) breaking
3) plunging

3. rogue - Rogue waves, also known as freak waves, are relatively large and spontaneous ocean
surface waves which are a threat even to large ships and ocean liners.
Type of coast lines
1. submergent - water rises relative to land
Wave action tends to straighten a submergent coast line. 2. emergent - land rises relative to water, tends to resemble a straigntened
submergent coast line. Beach terrace - land form created by land rising relative to the water
Work done by surf/shallow water wave
1. erosion


a. direct lifting by water
b. abrasion
c. impact
erosional land forms created by waves - because of wave refraction, wave energy is concentrated
on any headlands that jut out from the shore.

i. wave-cut cliff- produced by wave action pounding away at base. Cliff recedes as upper portions fall away.
ii. sea cave - cave formed by wave attack along base of wave-cut cliff.
iii. sea arches - further wave action will eventualy cut through the cliff forming an arch.
iv. sea stacks - continued ersion and crumbling of an arch will produce a stack.


v. platform -



2. transportation


a. large stuff left on land, moved by beach drift.


b. smaller stuff carried into water and moved by off shore current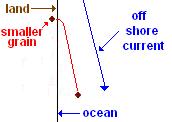 3. deposition - occurs when water calms and waves decrease in size.
depositional landforms
a. barrier island - build up of sand off shore


long thin islands
parallel to shore
used to be sand dune
migrates toward shore

b. bay mouth bar - sand blocking off a bay


c. beach - build up of sand in protected area
d. lagoon - bay blocked off by bar
e. spit - sand building up at the mouth of a bay
f. tombolo - strip of sand conecting a barier island to the land

Result of building jetties out from shore
Page Visits