|
COURSE LECTURE NOTES:
| SCIENCE | MATTER | SOLAR SYSTEM | PLANETS | ATMOSPHERE | WIND and TEMPERATURE | HUMIDITY | WEATHERING | SOIL | SEASONS | MASS WASTING | SEASONS and CLIMATE | WIND WORK | STREAMS | LAND FORMS | GROUND WATER | CAVES/KARST | THE OCEAN | TIDES & ESTUARIES | WAVES | GLACIERS | GLACIAL LANDFORMS | VOLCANOES | VOLCANOES | CHON | PLATE TECHTONICS | EARTHQUAKES | ROCKS | CLIMATE CHANGE |
WINDS
I. Wind
A. definition: horizontal movement of air. .

B. speeds

1. record speed = 372 km/hr on Mount Washing, New Hampshire in April 1934
2. hurricanes = up to 325 km/hr recorded
3. average speeds = 27 km/hr

C. controls:

1. air pressure gradient – greater(steeper) = faster
2. Coriolis effect – change in direction of wind due to Earth's rotation. Veer to right in Northern Hemosphere, and left in Souther Hemisphere. Most important in large scale winds
3. friction - buildings/vegetation slows wind speed at lower altitudes.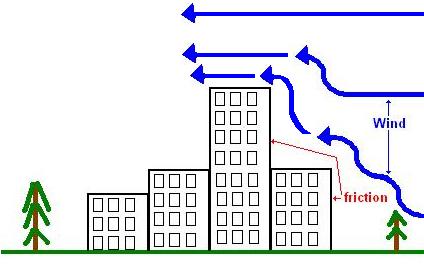 II. Local winds
A. Katabatic winds:


1. mistral – flows down the Rhone Valley in France
2. bora – flows off the Karst plateau
3. at Cape Dennison, Antarctica – makes this area with the highest average wind speed (70km/hr)

B. down slope winds with adiabatic warming

1. chinook
2. fohn
3. Santa Ana

C. sea and land breezes




III. Storms, etc
A. Tornadoes

1. very violent wind storm associated with thunderstorms
2. in cloud = funnel cloud, but becomes a tornado if it touches the ground
3. forms when a spiral updraft narrows from 10 to 20 km to only 0.1 to 1.5 km in diameter 4. average 780 tornadoes/year in the U.S.A.

B. Hurricanes

1. a.k.a. cyclones, typhoons
2. oceanic storms with maximun wind speeds > 120 km/hr
3. energy of the storm comes from latent heat of condensation – therefore needs warm water (at least 26.5 degrees C) and will die if it reaches land or cold water
4. Damage

i. strong winds
ii. storm surge – under eye
iii. intense rain fall (25cm common)

Adiabatic Temperature Change

Temperature is the result of atoms bumping into each other. The closer packed the more collisions and greater the temperature.
An adiabatic temperature change is a change in air temperature without the addition or subtraction of energy. A change in volume due to increased or lowered pressure.
(A dibatic temperature is the result of adding or subtracting energy i.e. heating water on the stove)




Geological Work Performed by Wind

Wind work is most powerful/efficient in the desert. There is very little water, so most of the erosion, transportation, and deposition is done by the wind.
1. Wind erosion


a. Direct abrasion - sand blasting, scraping. Wind speeds in the desert can reach 161 km/hr, which can easily sandblast the paint off an automobile. The same applies to rock. Over time, milimeter by milimeter sand grains are broken off and the rock worn away. The new sand contribute to the erosion. Wind + sand = more sand.

b. Direct lifting - the wind lifts the erode particles from where they had rested.

2. Wind transportation - similar to a stream


a. Bed load - some contact with the ground. Saltation - bouncing along. The heavier material rolls along.

b. Suspended load - dust, big dust clouds i.e. dust clouds in Santa Ana Winds. Dust can go a long way,even across oceans, i.e. Africa to the West Indies.

c. Dissolved load - very fine grained stuff i,e, decomposed plant matter (pine scent), sea salts, man-made pollutants.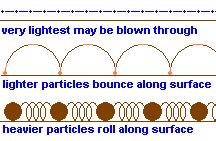 Land forms shaped by wind


1. Erosional forms


a. blowout - hole in the sand from wind blowing onto one area, saucer shaped depression



b. zengen - bottom blown off by wind - mushroom shaped


c. yardong - ridge of rock sticking up that has been exposed by wind


2. Deposition forms


a. loess - very fine dust deposited from suspended load. May be several hundred feet deep. Can be very dangerous in earthquakes or with large water supply. People have dug out homes in loess deposits.

b. sand dunes - deposit of sand

1) free (migrating)dunes - these migrate, distance varies.

Types are:



a)transverse

b) linier

c) star



d) barchan




2) anchored dunes - held in position by vegetation or other obstacle.

Types are:



a) nebkla - mound caused by plant trapping sand


b) parabolic
Desert Pavement- surface of very old rocks that don't move, they are stuck in the surounding material. The large rocks move up by wet/dry cycles. They protect the moisture below them and the dry ground sinks. If formed this way, there will be loess below the rock. If formed by the traditional way, sheet wash removes finer material and leaves rock, there will be no loess below.
Page Visits