|
COURSE LECTURE NOTES:
| SCIENCE | MATTER | SOLAR SYSTEM | PLANETS | ATMOSPHERE | WIND and TEMPERATURE | HUMIDITY | WEATHERING | SOIL | SEASONS | MASS WASTING | SEASONS and CLIMATE | WIND WORK | STREAMS | LAND FORMS | GROUND WATER | CAVES/KARST | THE OCEAN | TIDES & ESTUARIES | WAVES | GLACIERS | GLACIAL LANDFORMS | VOLCANOES | VOLCANOES | CHON | PLATE TECHTONICS | EARTHQUAKES | ROCKS | CLIMATE CHANGE |
WEATHERING
Weathering – disintegration and decomposition at or near the Earth's surface, decomposition is the most complicated of the two
1. chemical weathering – decomposition, change a substance into something else, for instance, the result of exposure of rock to rain, wind, etc. might change rock to rust (oxidation) (Fe2O3) and clay minerals. The reason cars and houses are painted (for protection from elements).

2. physical/mechanical weathering - disentegration, breaking objects into smaller objects/pieces


a. wedging



1) frost wedging – water gets into cracks in the rock, then water freezes into ice. Water expands in volume when it turns to ice. Then ice forces crack wider. it will eventually break the rock apart. Spring and fall are the best times for this, there is plentiful water during the days and it freezes at night.




2) salt wedging – easiest to see in wood, water soaks into wood (i.e. fence post), then is evaporated leaving behind salt deposits. Repetition of this builds up wedge similar to an ice wedge and splits the wood.





b. exfoliation – thin layers of rock peal off, works best on plutonic rock. The plutonic rock forms deep under the Earth's surface under intense pressure, as it moves toward the surface the pressure decreases and the rock expands causing cracks in its surface, then layers flake off.

3. organic activity – weathering caused by living things, i.e. trees, people.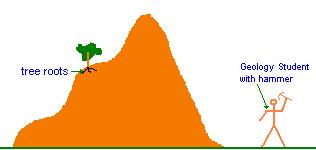 Drastic heating then rapid cooling will also cause rock to break. Usually associated with forest fires.

Roll of water in chemical weathering:
1. water in chemical weathering enables reaction (gets chemicals together and/or is evolved in the reaction). Warm temperature + moisture = faster reaction.

2. Critical in organic activity. All life needs water. The more physical weathering the more rock surface for chemical weathering. The more chemical weathering the more things can break apart.
Weathering goes on no matter what. People weather too.
Products of weathering:
1. regolith – loose rock material at the surface, will not support living things.
2. soil- mixture of regolith, water, air, and organic material that support plant life.
Organic material – living things
1. humus – black/brown product of decay.
2. worms, fungi, bacteria, etc. bacteria is need to make ionic nitrogen.
Page Visits