|
COURSE LECTURE NOTES:
| SCIENCE | MATTER | SOLAR SYSTEM | PLANETS | ATMOSPHERE | WIND and TEMPERATURE | HUMIDITY | WEATHERING | SOIL | SEASONS | MASS WASTING | SEASONS and CLIMATE | WIND WORK | STREAMS | LAND FORMS | GROUND WATER | CAVES/KARST | THE OCEAN | TIDES & ESTUARIES | WAVES | GLACIERS | GLACIAL LANDFORMS | VOLCANOES | VOLCANOES | CHON | PLATE TECHTONICS | EARTHQUAKES | ROCKS | CLIMATE CHANGE |
PLATE TECHTONICS
Plate Techtonics is the concept that portions of the Earthís surface move. The theory of centennial drift was first presented in the 1920ís by Wagner. He compared rocks and lizard fossils in South America and Africa and determined that they were the same (animal species that are separated, such as the squirrels on the north and south sides of the Grand Canyon develop different characteristics), so he argued that the coasts must have at one time touched. In the late 1940ís and early 50ís scientists discovered that different layers of the Earth had different magnetic orientations (the Earthís North and South Poles switched magnetic orientation at different times in the past). This was determined by the way iron particles had aligned while in molten rock. From this it was determined that the mid ocean ridge was a spreading center or divergent plate boundary.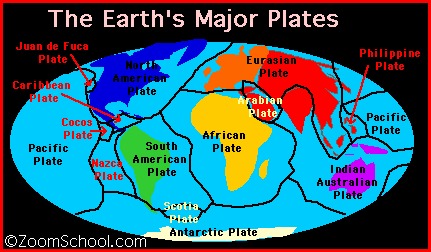 Plate Boundaries:
1. Divergent

Places where plates are coming apart are called divergent boundaries. As shown in the drawing below, when Earth's brittle surface layer (the lithosphere) is pulled apart, it typically breaks along parallel faults that tilt slightly outward from each other. As the plates separate along the boundary, the block between the faults cracks and drops down into the soft, plastic interior (the asthenosphere). The sinking of the block forms a central valley called a rift. Magma (liquid rock) seeps upward to fill the cracks. In this way, new crust is formed along the boundary. Earthquakes occur along the faults, and volcanoes form where the magma reaches the surface. .



2. Convergent

Places where plates crash or crunch together are called convergent boundaries. Plates only move a few centimeters each year, so collisions are very slow and last millions of years. As shown in the drawing below, the edge of the continental plate in the drawing has folded into a huge mountain range, while the edge of the oceanic plate has bent downward and dug deep into the Earth. A trench (i.e. the Marianas Trench) has formed at the bend. All that folding and bending makes rock in both plates break and slip, causing earthquakes.



3. Transform

Places where plates slide past each other are called transform boundaries. Since the plates on either side of a transform boundary are merely sliding past each other and not tearing or crunching each other, transform boundaries lack the spectacular features found at convergent and divergent boundaries. Instead, transform boundaries are marked in some places by linear valleys along the boundary where rock has been ground up by the sliding. In other places, transform boundaries are marked by features like stream beds that have been split in half and the two halves have moved in opposite directions. Perhaps the most famous transform boundary in the world is the San Andreas fault. The slice of California to the west of the fault is slowly moving north relative to the rest of California. Since motion along the fault is sideways and not vertical, Los Angeles will not crack off and fall into the ocean as popularly thought, but it will simply creep towards San Francisco at about 6 centimeters per year. In about ten million years, the two cities will be side by side!



| Reference 1 | Reference 2 | Reference 3 |
Page Visits